1940s

During World War II, 90 missionaries were interned or imprisoned by Japan. After the war, the Program of Advance jump-started a season of energetic growth that lasted through the 1970s.
By the 1940s the United States was fully engaged in World War II. Most Foreign Mission Board missionaries in China and Japan had evacuated during the previous decade. Once the U.S. officially entered the war, 90 missionaries remaining in China, Japan and Manila were interned or imprisoned, including M. Theron Rankin, the field leader for the Orient.
In 1942 Rankin and 39 other Baptist missionaries were exchanged for Japanese prisoners of war and repatriated to the U.S. Of the remaining prisoners, 39 were repatriated in 1943, one died in captivity, and 10 were liberated in 1945. Two years after Rankin's return, he was the first missionary elected to serve as the executive leader of the FMB. After the war ended, Rankin and other leaders surveyed the lands that had experienced the most damage. Africa was barely impacted, but in Europe buildings had been bombed, seminary programs were shut down, and some missionaries had relocated. By far, the worst damage was in China and Japan, where nuclear fallout and widespread devastation led to urgent appeals for aid. By 1946 relief and development projects were taking place in Asia and Europe thanks to almost $4 million collected by Southern Baptists.
In 1948 Rankin launched the Program of Advance, which led to substantial increases in funds, personnel and new fields of service. Many service men and women who had witnessed global needs during war-time deployment signed up for mission service. This post-war period of energy and growth, which lasted through the 1970s, is unparalleled in FMB history.
IMB Milestones
Significant Ministry Events
M. Theron Rankin Elected Executive Leader
M. Theron Rankin was elected, becoming the first missionary to serve as chief executive of the Foreign Mission Board. He served until his death in 1953, leading the organization through a time of post-war energy and growth that included an 80 percent increase in the number of foreign missionaries and the expansion of work into 16 new countries.
1944
---
Offering Receipts Surpassed $1 Million
Lottie Moon Christmas Offering® annual receipts surpassed $1 million for the first time as the Foreign Mission Board marked its 100th anniversary. The stage was set for sending a new generation of missionaries to many lands recovering from the devastation of World War II.
1945
---
First Hispanic Missionary Appointed
The Foreign Mission Board appointed its first Hispanic missionary, Alfredo Celso Muller, a native of Mexico. He served until his death in 1962. His wife, Damaris, who was Swiss, retired in 1968.
1946
---
Ambitious Goals Set for Program of Advance
Executive leader M. Theron Rankin introduced the Program of Advance, challenging Southern Baptists to major growth in appointing and supporting missionaries worldwide. Goals included strengthening work in existing areas, starting work in new areas, increasing the number of missionaries to 1,750, and increasing the annual budget to $10 million.
1948
---
U.S. Entered World War II 
When the Imperial Japanese Navy Air Fleet bombed Pearl Harbor, Hawaii, President Franklin D. Roosevelt called it "a date which will live in infamy." The next day, Congress declared war on Japan, and on December 11, the U.S. joined the war against Germany and Italy as well. The war ended when the Axis Powers (Germany, Italy, Japan, et. al.) surrendered to the Allies (Great Britain, U.S., Russia, et. al.) in 1945.
1941
---
Yalta Conference Held 
In February 1945, Roosevelt, Churchill and Stalin met in Yalta in Crimea to discuss what would happen with Germany following the war's seemingly imminent conclusion. They decided to divide Germany into four zones to be occupied by the United States, Great Britain, France and the Soviet Union. Stalin promised to allow free elections in all the Eastern European countries bordering the Soviet Union, but he used his military might to make sure that the countries became Communist satellite states for the U.S.S.R., leading to the Cold War.   
1945
---
United Nations Formed
Following World War II, the United Nations was formed to help maintain international relations by helping to pursue peace and security through diplomacy and humanitarian aid. 
1945
---
Communist Party Took Control in Chinese Civil War
The Chinese were embroiled in a civil war in which the Nationalists and the Communists fought each other for control from 1927 until 1937, when they suspended fighting to focus on the Second Sino-Japanese War. The conflict resumed in 1945 following World War II and ended in 1949 when Mao Zedong and the Communist Party came to power. Following the Communist takeover, FMB missionary doctor Bill Wallace was imprisoned and tortured. He died in prison in February 1951, and the Chinese mission field closed soon after.
1945
---
India and Pakistan Gained Independence 
After 200 years of British rule, India and Pakistan (which included modern-day Bangladesh) were granted their independence. The countries were partitioned to create two states, one primarily Hindu, the other primarily Muslim, leading to the displacement of around 14 million people and subsequent violence that resulted in 200,000 to 2 million deaths. The FMB opened work in East Pakistan, now known as Bangladesh, in 1957, following the partition.
1947
---
Israel Became a Nation 
In May 1948, the British Mandate of Palestine became the first Jewish state in 2,000 years. The Balfour Declaration, issued in 1917, expressed the intent of the British to establish a Jewish homeland. Since its creation, the Israelis have been at war with their Arab neighbors four times: Israel's War of Independence (1947-1949), the Suez Crisis (1956), the Six-Day War (1967) and the Yom Kippur War (1973).
1948
---
Missionary Profiles
Honoring Faithful Service
Bill Wallace
Bombs were falling and the hospital took a direct hit. But Dr. Wallace had a surgery to finish.
---
Charlie and Megan Yates*
Charlie* heard his wife's voice calling his name, but he couldn't remember where he was. Then he recognized the hospital surroundings, and the haunting images of the past day returned.
---
Edwin and Mary Ellen Dozier
Holding their newborn son, they stared in disbelief at the front-page headline of the newspaper: ALL FOREIGNERS MUST LEAVE JAPAN.
---
Harry Schweinsberg
"Colombia seems to have been prepared educationally, psychologically and spiritually for the message that Baptists can give." On this Sunday, Harry's words would certainly ring true.
---
John Allen and Pauline Moore
Crashing bombs woke them on Easter morning, 1941. They knew they had to leave the city.
---
John and Jewell Abernathy
As World War II began, the Abernathys were forced to leave China. But God had a plan to bring John back.
---
Sinking of the ZamZam
Over 100 missionaries were sailing across the South Atlantic when a German raider started firing on their ship.
Missionary Rufus Gray Killed in WWII Internment Camp
Twelve (now thirteen)-year-old Billy Gray whispered with intense earnestness: "I'm going to be a medical missionary. You see my father was killed by the Japanese and I want to do his unfinished work as well as my own." …
1942
---
Compelled to Stay
When others evacuated Communist China, Bill Wallace chose to stay and care for patients at the hospital he established.
Latvian Baptists Flee Russian Persecution, Find New Home in Brazil
Dr. Walter O. Lewis, general secretary of the Baptist World Alliance, after he had visited the D.P. [displaced persons] camps all over Germany, wrote about the Baptists from Eastern Europe in those camps, and expressed his amazement at their determination not to return to their native lands now under Communist control. …
1947
---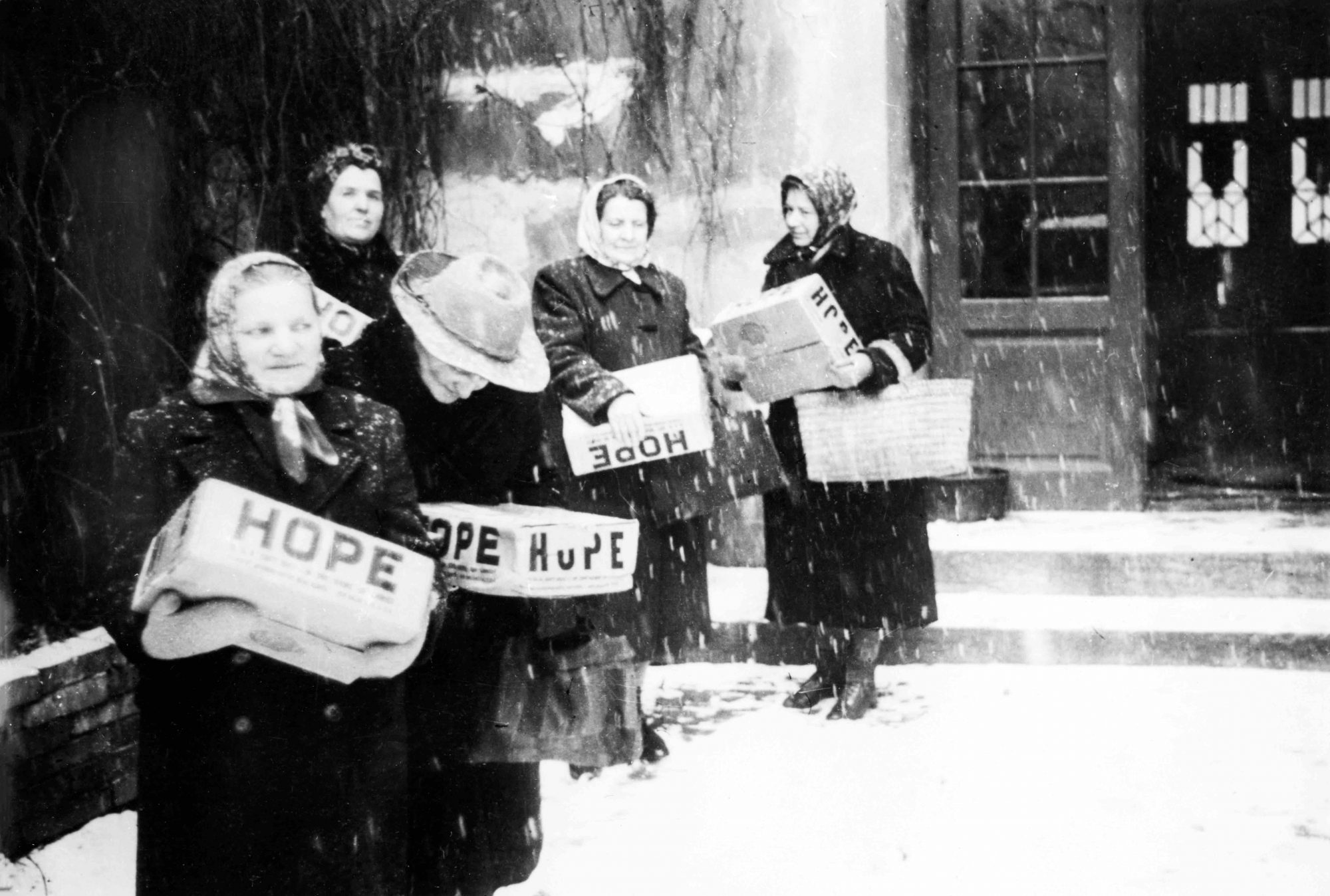 "HOPE" parcels from the New Orleans Relief Center are distributed by First Baptist Church in Vienna, Austria, to families in need after World War II. Southern Baptists gave generously to render aid to the people suffering in Europe and Asia in the aftermath of the war.
IMB Photo
In the summer of 1946, Foreign Mission Board leaders Dr. Baker James Cauthen and Dr. M. Theron Rankin visit the ruins of Wuchow Baptist Church in Wuchow, China. Dr. Robert E. Beddoe, a missionary doctor at Stout Memorial Hospital in Wuchow, accompanies them. Cauthen and Rankin toured Asia to assess post-World War II damage.
IMB Photo
German children give thanks for a meal at a feeding center operated by the Baptist World Alliance Relief Committee in cooperation with the Southern Baptist Relief Committee.
IMB Photo
Students hold their school banner at the Baptist College in Temuco, Chile, in 1949.
IMB Photo
Missionary kids Frances and Carolyn Pool play a shell spinning game with their friends Gordon and Adeola in Nigeria.
IMB Photo
The secretary of a Girls in Action group in Nigeria records the offerings brought by group members. The money is sent to the Nigerian Convention Fund, which is used to spread the gospel in Nigeria. A few years prior, part of the money was sent for war relief in China. Like GA girls in the United States, those in Nigeria work toward being crowned queens and hope to attend GA camp during summer vacation.
IMB Photo
Laura Garaa and Noemi Godoy, students at the Baptist Girls' Training School in Rosario, Argentina, prepare to drink mate, an herbal tea that is sipped through a silver straw.
IMB Photo
A Baptist congregation in Romania erects its church building.
IMB Photo
At the Yangchow Baptist Hospital clinic in China, a nurse explains to a young beggar how and when to take his medicine. In the background, a neighbor woman waits to fetch the boy, whose parents are dead.
IMB Photo
Elizabeth Watkins teaches a kindergarten class in Fukoka, Japan. She sought missionary appointment in 1930, but the FMB's financial condition at the time forced them to decline her. She served in Japan as an independent missionary and a contract worker until she was finally appointed in 1948.
IMB Photo